Panini Carrefour Virtual Sticker Album Carrefour sticker collection with Disney stars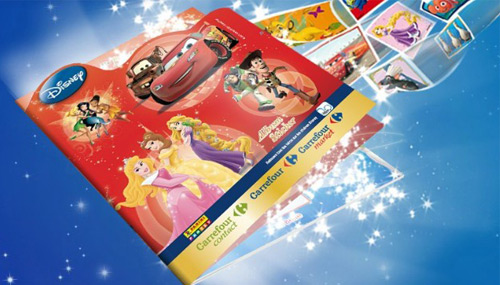 Description
Another version of Neopoly's new Virtual Sticker Album, this time for the French shopping company Carrefour. Users can collect and trade virtual stickers of popular Disney stars like Arielle or Ratatouille.
Each user has his/her own album and, being a member of the Carrefour club, starts with two packets of virtual stickers. To rip open a pack users simply click on the packet. Afterwards they can browse through the album page-by-page or directly jump into specific club pages. They 'glue' the stickers into your virtual album by using the mouse.
The virtual sticker album provides a place for the users who may want to swap stickers in the case they have received duplicates. In order to exchange virtual stickers with other players they can set up trade rules between bidders and buyers.
This album is specifically targeted for smaller children, so the complexity and layout were kept very simple. Your new stickers are placed in a bastet and to create swap requests you simply enter up to three stickernumbers you are missing. This differs from the more complex rule setup in other Virtual Collections.
When an album section is completed, users can download reward images.
Keyfacts
Category

Stickeralbum

Timespan

Aug 2011

Client

Panini, Carrefour

Project link

http://www.collection-disney.carrefour.fr